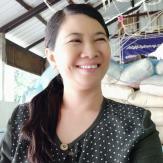 National CCA - DRM Specialist
Moe Kyiphyu has 10 years' experience in development sector and 5 years' experience in private sector aquaculture field. She have good experience in shrimp farming, crab culturing, small-scale aquaculture and mangrove friendly aquaculture. She have a lot of experience of Delta, Coastal and Central Dry Zone aquaculture situation.
She graduated the degree of Marine Science in 2005 at Mawlamyine University and obtained the degree of Master of Public Administration in 2019 at Meiktila University of Economics. Now she is attending Executive Master of Development Studies at Yangon University of Economics.
During 10 years' experience of development sector, she worked at Solidarities International as Fishery Senior Technician, Danish Refugee Council as Livelihood Technician (Fishery), ADRA-Myanmar as Aquaculture Specialist, MAUK- Serving Humanity as Senior Program Officer and WorldFish Myanmar as Field& Training Coordinator.
She is working in FishAdapt project as National Aquaculture Specialist starting from November-2018 to until now.