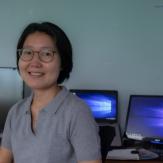 National DRM-EWS Specialist
Shelly has about 9 years of working experience in water sector and also many good experiences on the international peer-review journal papers. Among them, she has 6 years of working experiences in two international projects – JICA-SATREPS Project and World Bank-AIRBM Project. Her areas of expertise include research and modeling experience in water resources sector, hydro-meteorological database system installation and analysis for early warning system, flood disaster risk assessment and management, sustainable river basin management, and design of irrigation hydraulic structures.   
She got her bachelor of engineering degree in civil engineering from West Yangon Technological University in 2010. She completed her master of engineering degree in Yangon Technological University in 2014. She finished her Ph.D specialized in water resources engineering at Yangon Technological University in 2018 and during her research, she joined to the University of Tokyo as a research student in 2016.
Currently she is serving as a National Disaster Risk Management – Early Warning System Specialist in Fish Adapt project under FAO, Myanmar.