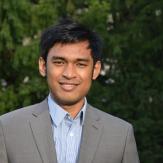 National CCA - DRM Specialist
Agricultural economist with 8 years' experience in agricultural and rural development (ARD) and rural poverty reduction of which 4 years of experience in research projects related to climate change adaptation, disaster risk reduction and vulnerability assessment in Myanmar and Mekong regions. 2 years of experiences in project management and implementation, especially projects related to agriculture, and rural development, natural resources management projects and farming system management in Myanmar and Mekong region. As an experienced researcher in climate change adaptation and resilience assessment in Myanmar, he is very skillful to design, implement and manage (research) projects related to land and natural resource management, livelihood vulnerability assessment and framing resilience pathways, etc. Now he works as a National Climate Change Adaptation_ Disaster Risk Management_ Vulnerability Assessment Specialist for FAO (UN) FishAdapt Project.
Dr. Aung Tun Oo obtained his PhD at the Department of Agricultural Economics, Ghent University Belgium in 2018. The PhD dissertation is entitled as 'Characterizing farm households' vulnerability and adaptation to climate change in Myanmar". He graduated the degree of Agricultural Science in 2008, with specialization in soil and water management at Yezin Agricultural University, Myanmar. In 2011, he further obtained a diploma in Agricultural Business Management at Ruppin Academic Center in Israel and in 2014; he obtained the degree of International Master of Science in Rural Development (IMRD) at Ghent University in Belgium. His research areas are agricultural economics, natural resource management, climate change, disaster risk reduction, vulnerability assessment and rural development. He participated in several international scientific conferences with oral contributions and is author and co-author of a number of international peer-reviewed publications.