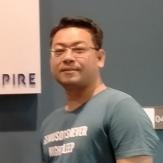 Regional Project Coordinator (Rakhine)
Aung Nyein Lin was awarded Bachelor's Degree in Botany from Sittwe University in 2004 and Diploma in Medical Laboratory Technician (Grade-2) at Laboratory Department Training School of Pathein Hospital in 2002. He had completed many certificate courses of Managing Organizations and Projects.
He worked as different position in different organizations for 19 years. He has a lot of professional working experiences in many sectors focus on Medical Health, Resilience, DRR and Climate Change, Child Protection, Safe School, Livelihood and Emergency Response. He has strong organizational skills, high problem solving skills, good communication and coordination skills, well aware of local culture and situations of conflict areas in Rakhine.
He is currently working as a regional coordinator of Rakhine Region in Fish Adapt project at the Food and Agriculture Organization of the United Nations Representation in Myanmar.