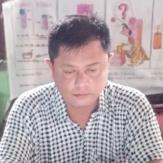 Regional Trainer/Facilitator (Rakhine)
Naing Min Tun received a Bachelor's Degree in Geography from Pathein University.  He worked in different positions in UN and NGOs, such as UNDP, Swanyee foundation and Plan International Myanmar since 2009, mainly focus on DRR program, School Safety program and Resilience Program.  
He has over 10 years' experiences and professional expertise in Facilitation in Soft skills, hard skills and Awareness Raising Trainings, Mobilizing Community, Monitoring and Evaluation Project Activities. He is patient and able to work precisely and diligently. He has good interpersonal skills, strong ability to support colleagues and coordinate with related organizations. He is good organizer and communicator as well.
He is currently working at UNFAO as Regional Trainer and Facilitator (Rakhine Region) of the Fishadapt project.